Article from BuildingGreen.com featuring our 2020 SEED Award Winners:
The NOMA/NAACP/SEED Awards for this year highlight projects with a social justice mission.
by Paula Melton
This monument honors the enslaved people who helped build and operate the University of Virginia from its founding through their emancipation.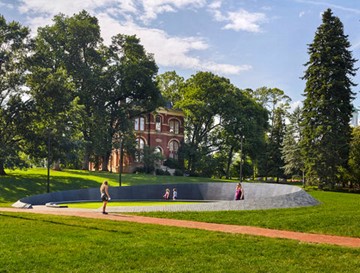 Photo: Alan Karchmer, Courtesy Höweler + Yoon Architecture
You know about LEED, but what about SEED?
Although Design Corps' Social, Economic, and Environmental Design (SEED) program has been around for more than a decade, it's less well known than other rating systems. But with the green building world gradually waking up to its equity challenges, SEED is starting to gain more traction and attention. This year's SEED awards were a joint project of Design Corps, NAACP, and the National Association of Minority Architects (NOMA).
7933 Tree Lane
Housing first: that's the idea behind 7933 Tree Lane in Madison, Wisconsin. The new building provides 45 apartments with two to four bedrooms to people experiencing homelessness. The project refuses to put people without housing on the sidelines; it's located in "an established middle-class neighborhood with easy access to community resources." Support staff inhabit the lobby to facilitate engagement with residents, and a main stairway encourages not only healthy habits but also neighborly encounters.
Biblioteca Caminanza
A library that's a path of hope. Biblioteca Caminanza, a design project completed by two students at the University of Oregon for Multnomah County Public Libraries, envisions a library that "creates a place where the public can come to challenge the traditional way they learn, process, and share information," according to the Design Corps website. "Redefining the library to change institutional power dynamics into a partnership with the people, the future library will be a tool for upward mobility within the community."
The Chicago Mobile Makerspace
Bookmobiles and food trucks are well established institutions. Now, how about a makerspace on wheels? Conceived by Chicago Mobile Makers, a nonprofit dedicated to diversifying architecture and other design fields, the Mobile Makerspace provides a gathering area, as well as tools and materials, to allow Chicago youth a place to make … whatever they like. The organization provides not only space and tools but also workshops on design, architecture, digital fabrication, basic construction, and place-making.
Envision Comanche
With a vision of transforming a community in Tulsa, Oklahoma, into a more culturally diverse, mixed-income and mixed-use neighborhood, the Envision Comanche Master Plan undertook a deep and broad year-long community engagement process. Sustainable development was a core commitment, along with the goal of replacing existing apartments one for one. The final plan is designed to "transform the area into a more vibrant and resilient mixed-income community that supports positive outcomes for all its residents," according to the Design Corps website.
Memorial to Enslaved Laborers at the University of Virginia
Seeded as a student initiative at the University of Virginia in 2010, this monument honors the enslaved people who helped build and operate the school from its founding through their emancipation. Descendants of the enslaved laborers worked with the project team, as well as university stakeholders and people from the town of Charlottesville. The memorial takes the form of a broken shackle while also echoing the "Ring Shout" dance of enslaved people. Says the University of Virginia website, "Its physical form seeks to capture the complex and challenging lives of the enslaved through the duality of this painful chapter of American history: lives oppressed by the violence of bondage, but also lives that bear witness to the perseverance of the human spirit."
Pathways to Equity: West Oakland Environmental Indicators Project
A new stadium is coming to Oakland's west side. Although often seen as an economic boon, large infrastructure projects of this sort typically disrupt neighborhoods, indelibly changing their character. West Oakland residents sought to have a say in how the new stadium would impact environmental justice, and the West Oakland Environmental Indicators Project was born. Working with a team of designers and other experts, the group successfully negotiated a community benefits agreement focused on equity priorities such as resilience, air quality, and affordable housing.
The Weatherization Kit Project
Window plastic, weatherstripping, and door sweeps: these are simple but effective ways to patch up a leaky home. Yet many people who live in houses in need of renovation don't know about these materials or how to use them. Enter the Weatherization Kit Project, a program that provides such supplies—plus a booklet on how to use them—to low-income residents of Pittsburgh. Distribution workshops even give recipients a chance to try out the materials and build confidence in how to use them effectively before applying them at home.